INTRODUCING
CareX is a Platform that aims to provide the best solution for everyone who wants to find the cost of care or pay for health care in an easy and renewable way. CareX has a token that will be used as a means of payment based on Blockchain. Any transaction using CARE Token will contribute to this Platform of 0.5% per annum. Team CareX developed this Platform using Blockchain technology so that every transaction that User performs will be secured and permanently recorded by Blockchain technology. CareX will become a health service as well as a cheap investment for everyone, and with it, CareX is proud to introduce themselves to the Public.

Getting Started Development
Team CareX develops this platform with today's renowned technology, Blockchain technology, which is very secure and transparent for both Users and Investors. Team CareX also developed a technology called AI, which is Dr. Pinto, later Dr. Pinto will be able to provide an early diagnosis of the illness suffered by the User, but the report submitted by AI is not official, and after that, the User can directly contact the medical party to get a formal diagnosis.

Dr. Pinto is developed by a team of professionals and experienced in their field, in order to provide the best user of medical diagnosis early on. CareX will provide users with a wallet that can be used to transact between Users or anything else. Team CareX will provide a market to get token by registering directly to the CareX service network, and afterward, they will be rewarded, such as a travel provider to the emergency room. Team CareX is making a step forward, using Blockchain technology along with the Healthcare Platform, and the result is the creation of a transparent and secure market for everyone and at the same time, the burden of service providers associated with administrative expenses will be reduced, since the platform does not require a third party, so it is more minimal administrative costs. Team CareX creates a feature where CARE tokens that users hold, can be directly used not just for transactions but more than that, CARE tokens can be used to securely retrieve their medical records and provide short-term access to service providers as per the requirements of Users.

Why Blockchain?
We designed this platform to run using blockchain technology as the basis for our platform development. Because since it first appeared, blockchain comes with the offer of fast and secure online transactions and supports all types of data and cryptocurrency. Blockchain technology uses a system, where every transaction is recorded and can not be changed forever, so transactions can be maintained and reduce the possibility of data fraud. The blockchain is inherently resistant to the modification of the data involved. The blockchain is a growing list of records, called blocks, connected and secured using cryptography. Each block usually contains a hash pointer as a link to the previous block, timestamp, and transaction data. Using blockchain for transactions and transparencies, creating transparent and fair markets open, democratize value distribution and narrow down relationships between advertisers, network providers, and customers.
In Conclusion
We believe with reliable and professional technology and team, CareX can provide you with a better, more transparent long-term health and investment service. We also believe that Blockchain technology is key to this Platform, and thus CareX can become a more reliable Healthcare Platform platform than similar platforms.

TOKEN SALES - JOIN OPPORTUNITY
With this opportunity, We invite you to enlarge this Platform, to reach the Broader Society. We will release the Token under the name "CARE Token ", here is the data.
•  Name: CARE
•  CARE token price: $10.00 USD, subject to increase if CareX meets its funding cap.
•  Accepted currencies: Ethereum (ETH), Bitcoin (BTC), LiteCoin(LTC),  United States Dollars (USD)
•  Token Background: CARE is built as an ERC20 token on the Ethereum blockchain


OUR TEAM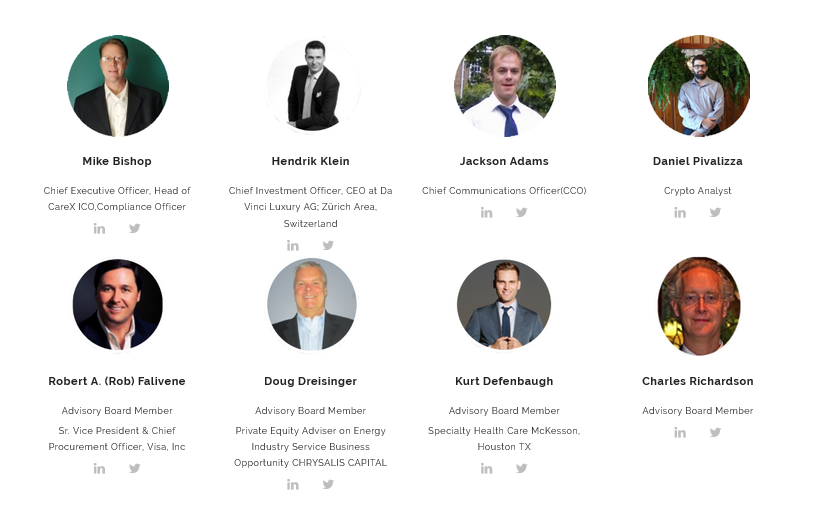 CONNECT WITH US
WEB: https://carex.tech/
WHITEPAPER: https://carex.tech/docs/whitepaper.pdf
TELEGRAM: https://t.me/joinchat/GhxZhkNtuM7zp52w1Nsavg
TWITTER: https://twitter.com/carexblockchain
FACEBOOK: https://www.facebook.com/carexblockchain/
BTT Profile: https://bitcointalk.org/index.php?action=profile;u=1112636