Auxledger enables organizations to build their fully customizable network as per business & compliance requirements. The multi-tiered networks deployed on Auxledger public network ensures data integrity across the ecosystem while maintaining interoperability with other networks using Auxledger decentralize consensus protocol.
Protocol agnostic infrastructure enabling enterprises to build customisable networks as per their business guidelines.
Flexible & Horizontally Scalable Protocols
Powerful LLVM based Auxledger Virtual Machine
Multi-tiered Networks Capability
Enterprise public network supporting business ready DApps and maintaining data integrity across Blockchain ecosystem.
Enterprise Public Network: AuxNet
Hybrid Tendermint POS Consensus
Sustainable & self regulating economy
Interchain decentralize consensus enables ability of interoperability, hybrid network and complete data privacy.
Hybrid Blockchain Network capability
Privacy Preserving Smart Contracts
Interoperability & Cross-chain asset transfer
Overview
What is Auxledger?
Auxledger is an enterprise Blockchain infrastructure project started by Auxesis Group in 2017. Auxledger enables organizations to build their fully customizable network as per business & compliance requirements. The multi-tiered networks deployed on Auxledger public network ensures data integrity across the ecosystem while maintaining interoperability with other networks using Auxledger decentralize consensus protocol.
How does Auxledger work?
Auxledger creates a complete Blockchain ecosystem providing ability to deploy a public/private network tiered upon AuxNet (Auxledger public network). Using Auxledger SDK, developers has full flexibility in deploying their Blockchain network with ease. AuxChips enables tiered network ability and deployment of DApps on the Auxledger public network. Please read our technical introduction paper or Executive product summary to get more details.
What are uses of AuxChips? Is it minable?
AuxChips is a fixed supply, non-minable admirative token which enables its holder to grant ability of (i) Participate in consensus process and mine secondary token called AuxGas, (ii) Create and deploy a tiered Blockchain network on top of AuxNet, (iii) Deployment of DApps on AuxNet, (iv) Participate in voting concerned to overall network governance process.
What are uses of AuxGas? How is it mined?
AuxGas is transactional fuel which empowers transactions in public ecosystem. AuxGas also fuels transactions which concern interoperability and interchain transactions routing through the public network. AuxGas consumption is on basis of the computation power and storage utilised by a particular process or transaction.
Please discuss company's roadmap.
There are 5 phases of product roadmap. Auxledger Draco is already live and in deployment with large enterprise organisations. Indian Governments are operating Auxledger Draco networks where over 53 Million population has been on-boarded. Almagest phase is completed where Auxledger team reviewed all deployments and sorted the future roadmap of development. Auxledger Orion phase is ongoing. Please checkout Roadmap page for a detailed view.
What is AuxNet? What are its native tokens?
AuxNet is zeroth tier deployment of Auxledger ecosystem. It is an enterprise public network enabling high performance distributed applications, deployment of fully customisable tiered network and act as a source of data integrity across all tiered Blockchain networks. AuxNet enables 2 token-based system. AuxChips are the token which provides its holder the ability of admistrative access while AuxGas is the transactional fuel tokens which is spent while doing network interaction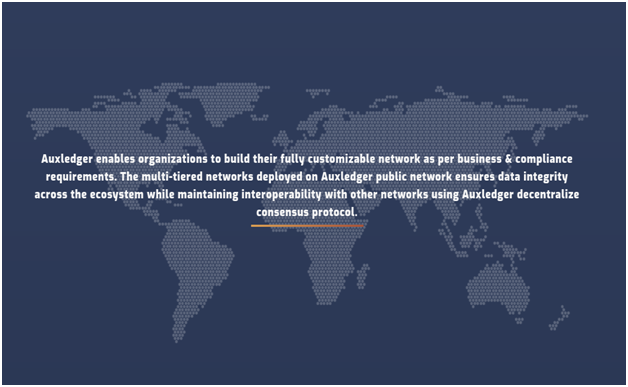 Organizational of Auxledger
Who is the creator of Auxledger? What are their competencies?
Auxledger is built by Auxesis Group – An Enterprise Blcokchain Company started in 2014. Auxesis Group is currently ranked 12th position globally in the list of Top 100 Most Influential Blockchain Companies. Auxesis has done large scale deployments for Indian Governments, Financial Organisations and Supply Chain Companies
Where is the company incorporated? Where team is based out of?
Token issuing company is incorporated out of Estonia. Auxledger development is being handled by experienced team of Auxesis Group based out of Mumbai, India.
Is your project open sourced?
Yes. All implementations of the protocol are open source. We encourage others to build other implementations.
How can I get involved?
You can contribute as a per-sale investor by purchasing tokens. We value the support of our community and we are thankful for all the contributions we get at [email protected]
Where can I go for more information?
Please follow us on twitter, medium, newsletter, website. Chat with us on Telegram.
Our Whitepaper, Economy paper and Executive summary are good resource for information on Auxledger.
Who are backing Auxledger project? Please name some of your partners.
HPE, IBM and KPMG are large enterprises among many partners who are backing Auxledger project. Indian Government is backing the implementation of Auxledger for various public projects.

Token and Distribution
What is the total supply of AuxChips and how can I procure it?
The total Supply of AuxChips is 100 million. It is non-minable and thus you can procure it through the token sale organised by company in 2 phases.
Is AuxChips an ERC20 token
Yes, AuxChips available in crowdsale is in the form of ERC-20 token, which will be ported later, making the AuxChips usable in the Auxnet ecosystem.
How can I procure AuxGas?
During network launch, each AuxChips been portedn to AuxGas will receive 3 AuxGas per AuxChips as well ensuring a sufficient supply of transactional fuel in the network. Further, AuxGas can be mined by AuxChips holder by participating in the consensus process. Please note that company will NOT organise any separate AuxGas token sale.
What if my KYC / AML application is rejected after I have contributed?
If you do not pass the KYC/AML assessment, we will email you and refund your fund within 30 days from the KYC/AML assessment date. Our decision is final.
What happens if I send my contribution from an Exchange?
Yes, you can send your contribution from an Exchange but please note that we will process any refunds to the same Exchange address which me cause loss of fund.
When is token distribution?
AuxChips distribution for the Phase 1 contributors will happen by or before January 2019. Phase 2 token sale i.e. crowd sale details will be announced later.
What is the token distribution?
20% token sale phase -1, 40% token sale phase 2, 5% Community Development, 10% Ecosystem Development, 13% Team and Advisors and 12% Company development.
What is the token price in crowdsale?

Token price will be decided by the exchange listing price. It is estimated to be $0.5

When can I start using AuxChips?
AuxChips can be used when the Draco network is launched.
Which payments methods are accepted?
Fiat/Bank transfer, BTC, ETH, LTC, XRP and USDT will be accepted as a mode of fund transfer.
Is there vesting or lockups for Founder tokens?
Yes, 3 years vesting has been placed for all team members and the company's tokens.
What security measures are taken to keep my data safe?
Your data will be handled with the utmost care and kept in secured servers in compliance with the strictest privacy regulations on Earth, those of the EU GDPR.
Where will I receive my refunds?
During the crowd sale process the refunds will be sent to the same address from where you have transferred to us. We suggest to use wallet for fund transfer. Please note that if you are sending your funds from an Exchange it might get lost in case of refund.
What if I do not agree with the Terms and Conditions?
Accepting the T&Cs is a pre-condition for being able to participate in crowd sale. If you disagree with the Terms & Conditions, do not participate in the crowd sale.
Will I receive the AuxChips to same wallet used for payment?
No, We will ask for Ethereum address for sending the ERC-20 AuxChips. Suggested Ethereum wallets are META MASK, MY ETHER WALLET, MIST, PARITY, IM TOKEN, TRUST WALLET and any other hard wallet.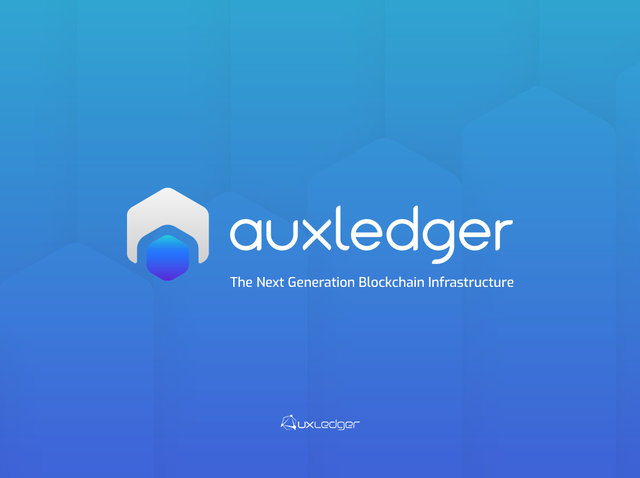 The ability to control the transactions through AuxGas which is automated by AuxNet will allow my business to automate its payment processes, compared with other networks whose operations are controlled by time/block processes AuxGas ability to scale through dynamic control of the supply of AusGas will ensure a stable transactions management for my business. For more information on Auxledger please check the website, whitepaper and social media pages in the links below.
Bitcointalk profile link: https://bitcointalk.org/index.php?action=profile;u=991175