The gaming industry is not new; as a matter of fact a lot of revenues have been generated from the gaming industry over the past few years especially with the introduction of online Gaming where players can play on mobile phones or even computer. But it is obvious that most of players of these games are not usually encouraged due to the ugly situations surrounding the present gaming industry. But DABANKING has come to change this ugly story using an innovative disruptive technology. with the use of Blockhain technology DABANKING is a Multifunctional platform comprising of : DABANKING GAMING , DABANKING Staking , DABANKING mining , DABANKING DApp developing . Whichever category you belong DABANKING has come to change your perspective.
THE UGLY SITUATION IN EXISTING GAMING INDUSTRY
You will agree with me that no one wants to be cheated upon, every player likes transparency, trust and safety. But unfortunately these three major components are missing in the traditional gaming industries around the world. If you are a regular player of a particular game you will agree with me that most of the games we spend money to buy and download from the play stores or App stores , we only play them for pleasure without any financial reward. For the few ones with a financial reward, there are a lot of manipulations. Are we talking about some offline games we play? Where payments of rewards are sometimes delayed over several months and are paid in bits especially if the amount is reasonable.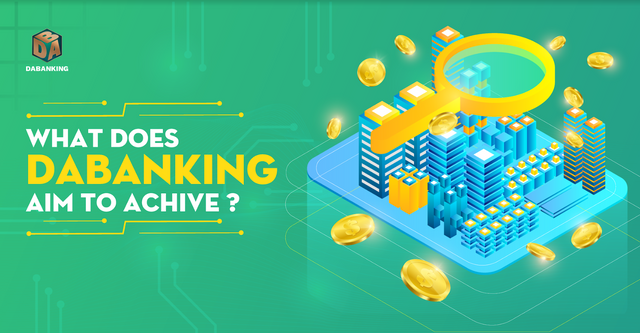 I won't forget an experience i had while playing one game back in collage from the outcome of that game, I won over a thousand dollar , but to my disappointment I was not given a dime until after about a month. After much persuasion I was paid only two hundred dollar out of the amount I won. These discouraged me from playing any game that claims to pay. I am sure several other people have experienced worst scenarios with the existing traditional centralized gaming systems. This was the reason I got so excited when I came across DABANKING DECENTRALIZED GAMING PLATFORM, I read through their whitepaper and knew this was exactly what game lovers like you and I needed. WhychoseDABANKING.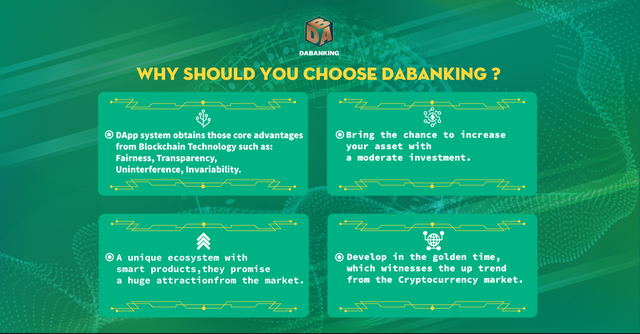 WHY SHOULD I PREFER DABANKING GAMES? Like I said earlier, I am very excited about DABNKING gaming platform. DABANKING is unique in nature, if you ask me, I will say with confidence no Gaming platform is as good as DABANKING at least not for now. This is because, Leveraging on Blockchain technology and its features, DABANKING has created a Gaming platform that will not only pay players in ETH instantly, but will pay full winning amount either in ETH or DAA token without delay and without stories. The use of Ethereum smart contract has given DABANKING a complete Decentralized nature where they do not operate with intermediaries. Therefore players do not have issues of trust, transparency or safety as this is DABANKING trade mark.
DO I NEED A SPECIAL SKILL TO PLAY DABANKING FOMOJACKPOT? No, good enough, all a player of FOMOJACKPOT needs is a Trust wallet on a mobile phone or Metamask wallet on computer. The user friendly interface of DABANKING Gaming platform allows anyone to be able to send Eth and buy the ticket. By just buying the ticket you are qualified to play and win Eth many times upto 650% of your initial amount. Remember the faster you buy the JACKPOT ticket the greater your chances of winning lots of ETH so it's time to buy your ticket and start winning. This is the time to go back gaming and Make DABANKING jackpot your favorite.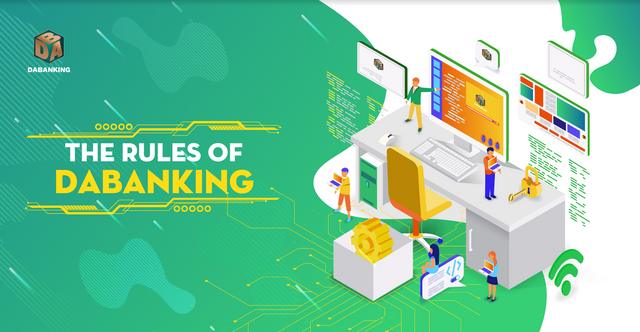 HOW DOES DABANKING REFERRAL PROGRAM WORK? Apart from playing FOMOJACKPOT and winning ETH, users can as well earn big from DABANKING platform by referring other users. As people you refer buy tickets and play games you earn some amount of ETH or DAA token. This earning goes as much as 10 levels and you are entitled d to win as much as 17 % from your referrals.
The winning income comes in as soon as your referrals buy the tickets. I must say, on DABANKING users can earn from different activities, apart from referring people and earning or playing games to earn, users can decide to lock their DAA token for just two weeks and earn dividend according to the amount of DAA token locked. And the good thing here is, unlike other staking platforms where users have to stake foe a very long time like several months, On DABANKING , staking is only two weeks. As soon as the dividend for the two weeks is paid, your DAA token is unlock and you can decide whether to stake it again for another two weeks.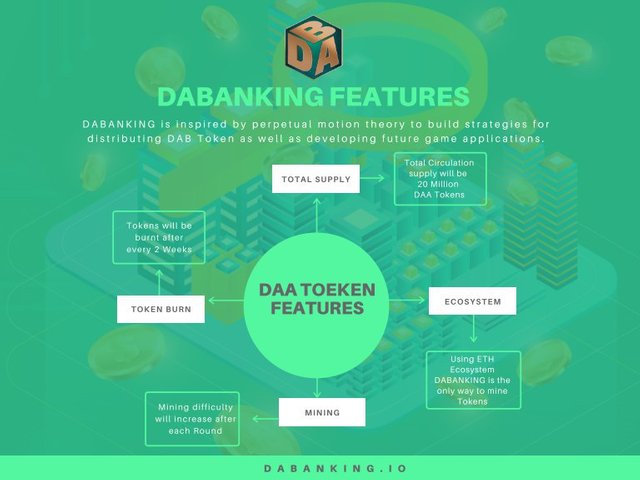 WHAT IS DAA TOKEN?
I have been mentioning DAA token, now DAA token is a utility token created on ETHEREUM BLOCKCHAIN to serve as a driver of DABANKING ecosystem in several ways. Order than ETH, every other payment made on DABANKING platform is done using DAA token. The winning income, referral income, dividend including other rewards and incentives .With a total supply of only 20 million DAA , and the regular token burning program according to the Team , the value of DAA token is meant to increase .
CONCLUSION Being part of DABANKING community is one good thing that has happened to me of recent. Looking at its unique features and potentials I realized DABANKING has come to transform both the blockchain technology and the gaming industries. With DABANKING one can imagine the mass adoption of the blockchain technology in the nearest future. For more updates make use of the links below: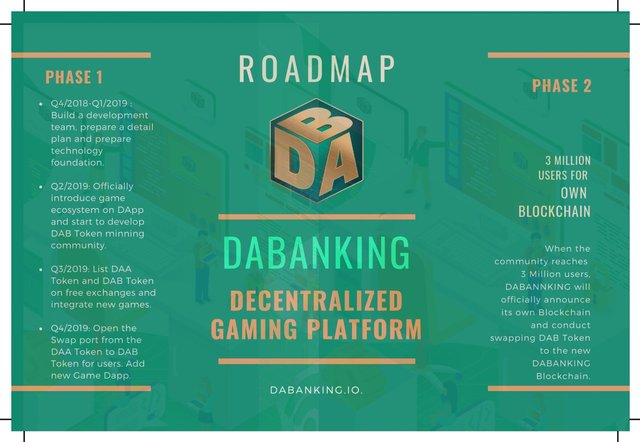 Website: https://dabanking.io/

Whitepaper: http://dabanking.io/static/whitepaper.pdf
Youtube: http://bit.ly/2VYtVOV
Discord: https://discordapp.com/invite/uqfMjYV
Telegram: https://t.me/DABANKINGOFFICIAL
Medium: https://medium.com/@dabanking.io
Twitter: https://twitter.com/Dabanking_io
Facebook: https://www.facebook.com/dabanking.io/
Author's bitcointalk profile: https://bitcointalk.org/index.php?action=profile;u=2281902;sa=summary
Name: fune